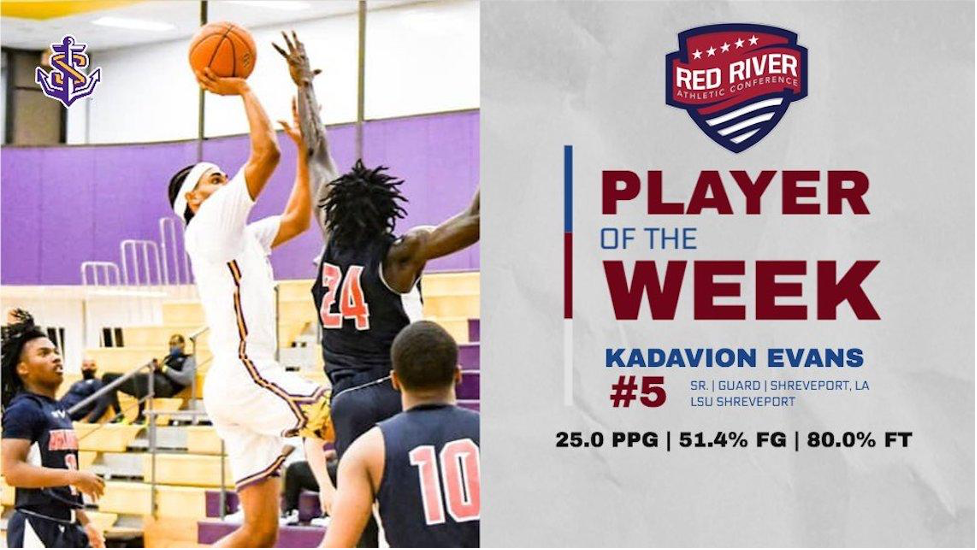 Photo courtesy of LSUS Athletics
Kadavion 'KD' Evans, has been emanating athletic excellence this season, winning the RRAC Player of the Week award and earning LSUS's only recorded quadruple-double. The senior guard for the Men's Basketball team is still on that streak of success.
The Louisiana native has earned himself another RRAC Player of the Week award for the week of November 16th. In that week, Evans dropped 50 points in two LSUS wins. In the team's 100-67 victory over University of North Texas-Dallas, Evans earned 21 points. He earned 29 points and nine rebounds in the Pilots blowout win of 103-73 against Philander Smith College.
Collectively over the week, Evans went 18/35 from the field and 12/15 from the charity stripe, earning him a positive 51.4 field goal percentage and an 80 free-throw percentage. Additionally, 'KD' Evans is now ranked 2nd in the RRAC in scoring, averaging 22.8 points a game, and third in rebounds, averaging 7.6 boards a game. His efforts along with his fellow Pilots now make the team 6th in national rankings, standing at an undefeated 8-0 record.
For more information on LSUS sports and athletics, visit lsusathletics.com, or visit almagestlsus.com.