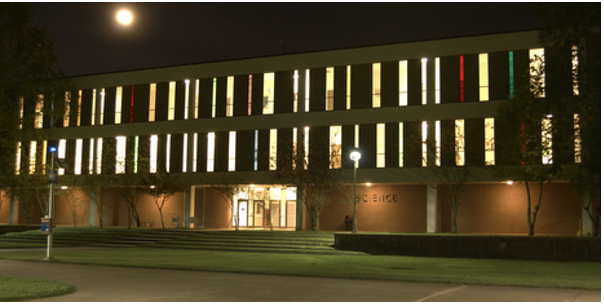 Image courtesy of the LSUS Website.
Major changes will be coming to the LSUS campus in the spring, especially in the Science Building.
The Science Building will be closed for the Spring 2021 semester for renovations and repairs to improve air quality.
Over the past few months, there have been some concerns with the air circulation and quality within the building in regards to mold.
The Dean of the College of Arts and Sciences, Dr. Tibor Szarvas, said, "In order to help fix the problem, LSUS hired a highly qualified industrial hygienist from California. He is an indoor air expert."
The consultant visited LSUS and conducted an investigation and assessment of the air quality in the Science Building. In his report, he noted that there were small areas of fungal growth within the air system that needed to be remediated. He also noted a number of chemical hygiene issues that need to be addressed. He recommended that repairs be made to improve the overall air flow in the building.
According to the consultant, there is no present danger to the occupants in the building. However, once the repairs begin, the air quality will be disturbed which is why all essential personnel and students will be evacuated from the building.
The renovations will be done floor by floor and each floor will take a few weeks to complete which will take up the entire duration of the Spring semester. Dr. Szarvas says it is not feasible to leave some people on one floor while other floors are being renovated hence the closure of the building.
You might be wondering what's going to happen to the classes that were supposed to be in the Science Building next semester.
Some of the classes that were previously hybrid or face-to-face will go fully online while others will be moved to the HPE building. The rooms in the HPE building have the capacity to be outfitted into classrooms and labs for those courses that remain face to face. Some equipment and chemicals will be carefully relocated to the HPE building so hands-on scientific demonstrations and experiments can continue.
Faculty offices and the departmental offices for Chemistry and Biology will be moved to the HPE building as well.
In regards to how this change will affect students, Dr. Szarvas hopes that the effects will be minimal.
Dr. Szarvas said, "Some students will have to do online classes and not everyone may like that. However, it is not unprecedented as classes were also moved online for the previous semester due to COVID."
While this will be a significant change for science majors, the safety of the students is Dr. Szarvas' number one priority.