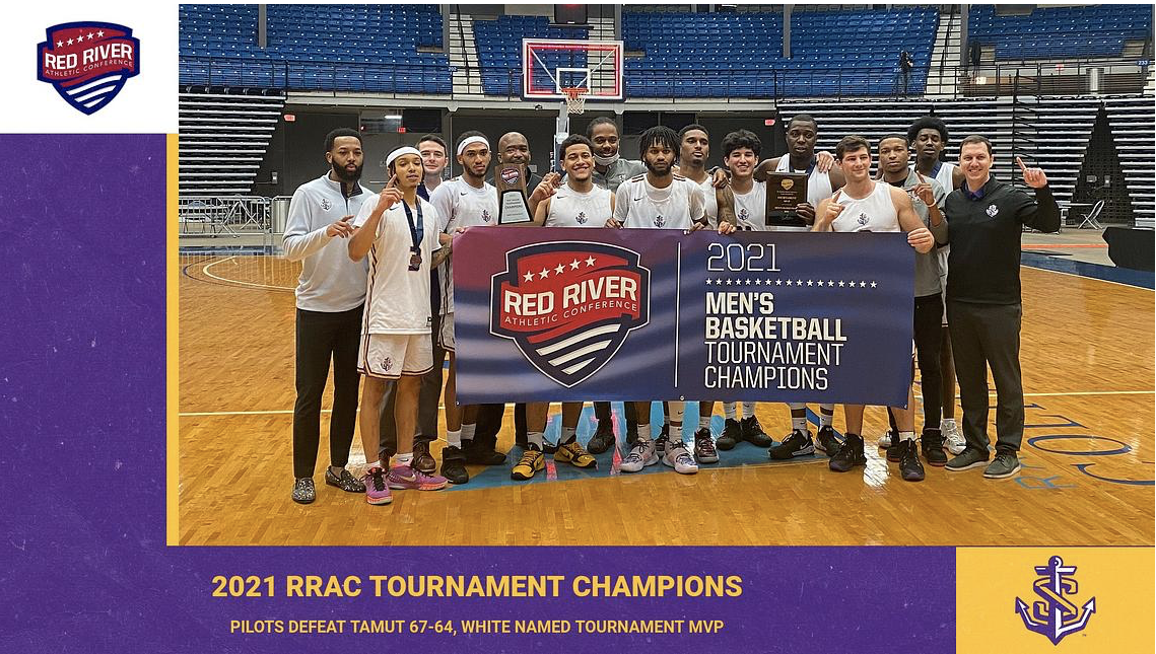 Photo courtesy of LSUS Athletics.
LSUS Athletes are notstrangers to success. In recent weeks, our men's basketball team has shown just how acquainted they are with it by bringing home not one, but two championship trophies! Our Pilots first defeated Texas A&M University of Texarkana on February 22nd to secure their Red River Athletic Conference regular-season title. They then went back-to-back, defeating the Eagles again on March 1st in the Red River Athletic Conference Tournament Final to earn the tournament title.
The first game ended 78-67, with the Pilots dominating and never falling below at least a 2 point lead. According to LSUS Assistant Athletic Director, Tyler Moody, a key highlight was Leondre Washington's first-half performance as he sank four in a row from deep to drastically expand the lead. He ended up scoring 22 points to end the game. Moody also noted other leading performances like Kadavion Evans's selfless eight assists and Brennan Maddox's five boards. Jeff Boyd finished as the player of the game with an impressive all-around performance and a clutch defensive effort of two blocks and two steals towards the end of the game.
The second game was much closer, with a full-time result of 67-64. In the rematch, Texarkana started strong. According to Moody, they had a lead of 31-20 until the Pilots turned on the jets and went on a 13-0 run. This game came down to which team had the toughest defense. Moody stated that Jeff Boyd and Trey Johnson took turns contesting the Eagles' player Kobe Powell to hold the Pilots' lead. The end of the game saw the title of RRAC Tournament Champions go to our Pilots. Akeem White held a consistent performance throughout all the competitions, earning him his own respective championship game MVP and RRAC Tournament MVP titles.
For more information and news on LSUS athletics, visit lsusathletics.com, almagestlsus.com, or lsusathletics on Instagram.