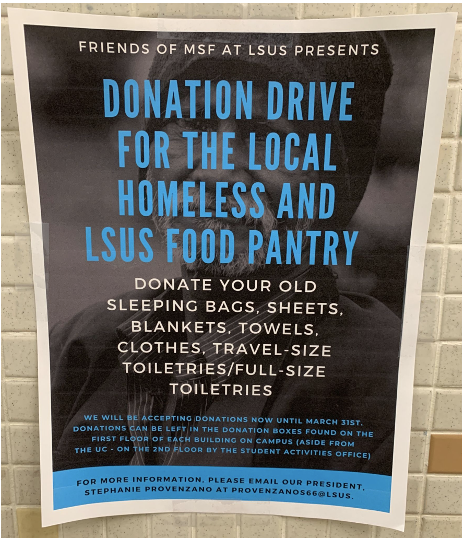 Attention Pilots! The Friends of Medecins Sans Frontieres (MSF) at LSUS are hosting a donation drive for the local homeless and the LSUS food pantry. Medecins Sans Frontires (Doctors Without Borders) is an organization dedicated to providing medical assistance to those affected by conflict, epidemics, disasters, or exclusion from healthcare. The Friends of MSF at LSUS is one of the many college chapters around the country, driven by the MSF's medical ethics, morals, and values, to help in their respective communities.
The donation deadline was originally March 31st, but donations are still welcome and encouraged. If you are looking to help then some items to consider donating would be old sleeping bags, sheets, blankets, towels, clothing, and all-sized toiletries.
Donation locations can be found on the first floors of every building on campus; with the exception of The UC, in which donations will be accepted on the 2nd floor by the Student Activities Office. Donations will be accepted via the designated donation boxes in each of the respective locations.
We spoke with students on campus who shared some inspiring words on their motivations behind donating. Gabriela De Jesus said that "...we were brought into this world to help each other out." Student Caitlin Hanning shared a story of her grade school years. "A friend I used to go to elementary school with would always come to school wearing the same shirt, same pants, and same shoes and others would normally make fun of them, and I don't want anyone to feel outcast like that. They deserve clothing, whether they can [afford] them or not", said Hanning. LSUS Student Activities Board receptionist, Madelyn Sizemore, said that "...the donation drive is a safer and more convenient way to take care of the many homeless people in the area."
For more information on the Friends of MSF at LSUS organization, the drive, or donating, you can email the president of the organization, Stephanie Provenzano at provenzanos66@lsus.edu.