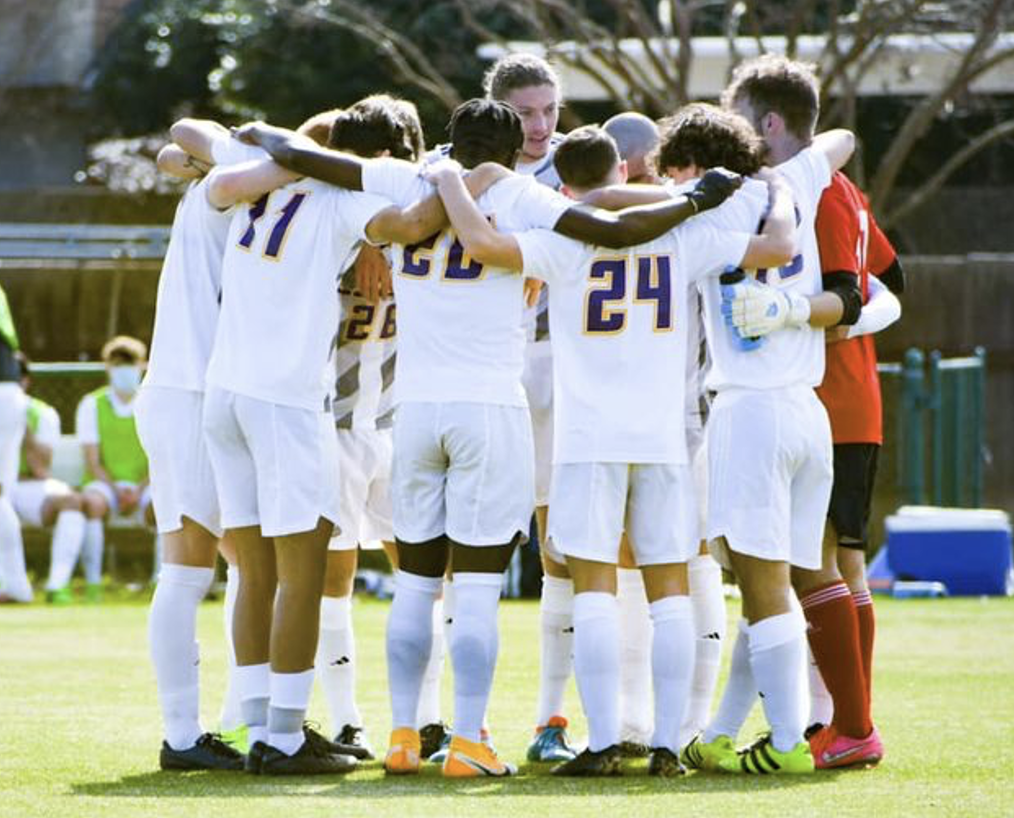 Photo courtesy of LSUS Athletics.
In a year like no-other, the LSUS Men's Soccer team's eight-month long season has come to a close. A 1-0 loss in the RRAC final against rivals LSU-Alexandria meant no automatic entry into nationals for the Pilots. However, they were one of eight teams fighting for the final five seats at the national tournament.
It wasn't meant to be for the squad as it was announced on Monday, April 19th that they were not selected for the tournament. Head Coach Phillip Bohn shares his thoughts, "It's heartbreaking, you know. When a group of people work so hard for so long towards a specific goal… only to come up short… I really feel for all the boys because they wanted it so bad."
The team finished the season with a 12-6-1 record, which is on par with three out of the four seasons since the program's rebirth in terms of number of wins. Only in 2018 did the squad out-win themselves with 15 victories that year. The Pilots scored 40 goals this season. Julius Williams led the line as top goal scorer with 14 to his name. Williams, along with Ayrton Redmore, Scott Neil and Hugo Juliao got themselves First Team All-Conference honors. Louis Owens earned a spot in the Second Team with Matt Roberts and Arsenios Dimitriou recognized as honorable mentions.
Along with personal accolades, the squad recorded the biggest win in program history, with a 1-0 victory over #2 nationally ranked Oklahoma Wesleyan. This win is solidified as a momentous occasion for the program and is a reminder to the squad that they can compete at the top level. Like any season, faces come and go, and with five seniors graduating this Spring, they have to adapt. "I think what hurts the most is that we won't have this same group of boys together again next semester. I really love the people we have in this program and with an eight-month season the guys were able to bond on a higher level," Coach Bohn States
The annual Pilot Athletic Banquet is being held this Wednesday, April 28th, where all LSUS teams and individuals with be recognized for their efforts this year. The Men's Soccer team themselves are hosting their own dinner and final meet of the year on Friday, April 30th, as a more intimate send-off for those leaving.