With delays and cancellations becoming commonplace, the coronavirus pandemic has upended college sports across the country. However, for the LSUS Men's soccer program, it has been a different story.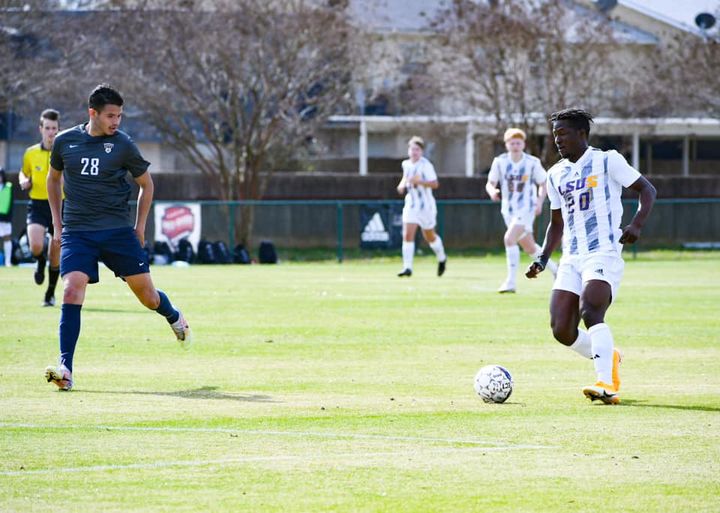 In a spring season like no other, the Pilots were thrown into competitive matches with no scrimmages to prepare. Originally, the team was scheduled to play Centenary College on Jan 23rd, but due to a number of positive tests, Centenary head coach Kyle Symczak pulled out of the game amid insufficient numbers.
This left the Pilots facing NCAA Divison III program, East Texas Baptist University, as their season opener in a countable game. The game was played on January 29th with the Pilots being the very first team to compete in the NAIA this spring.
When asked about the importance of scrimmages, Head Coach Phillip Bohn shared his thoughts, "Scrimmages are always used as an essential part of team development… with no scrimmages, we have to be a bit more patient and have perspective that our first couple games will involve some of those very mistakes and growing pains you'd expect from [them]."
The Pilots pulled through in a nail biting 2-1 victory, with Futa Kubo securing the game-winning goal in the final minutes. In a four day turnaround, the squad traveled to Laterneau University for their second countable game of the season, clinching yet another 2-1 win.
Managing a team of 30 student-athletes is no small feat during a pandemic, Coach Bohn discussed. "Focusing on what we can control [while] being prepared for things we cannot control should keep us more level through the craziness."
He went on to mention that masks must be worn at all times, apart from when you are actively engaged in physical activity outdoors. To best manage contact tracing, the players must be seated or positioned with their roommates during any indoor activity.
LSUS deems students as a close contact if they are within 6-feet of the person infected for a cumulative total of 15-minutes or more over a 24-hour period. This led to a single positive case forcing four other players into 14-day quarantine, because they drove together to the testing site.
Since the start of the fall season, all players have been required to submit a 'Covid Form' each morning before engaging in any team activities. It comes in the form of a Google document which they access through their phones.
The form asks twelve questions regarding Covid related symptoms. All twelve questions must be truthfully checked as "no" and submitted fifteen minutes prior to arriving to a team event. If the form is not filled out, the player cannot participate that day.
While there's only so much that can be managed by the team itself, Coach Bohn believes that motivation will be vital this season. Bohn said, "If we're highly motivated to be soccer student athletes, we will be more willing to make the sacrifices necessary during Covid."  
The Pilots have now played four competitive games this season. They suffered their first loss to nationally ranked William Cary Univeristy on February 7th, yet bounced back just two days later with a 6-0 whitewash over Southwest Assemblies of God University. They now look ahead to a busy and challenging schedule, seeing them play Bethel, Keiser and University of Mobile in the span of seven days – starting February 13th at 1:30 p.m.