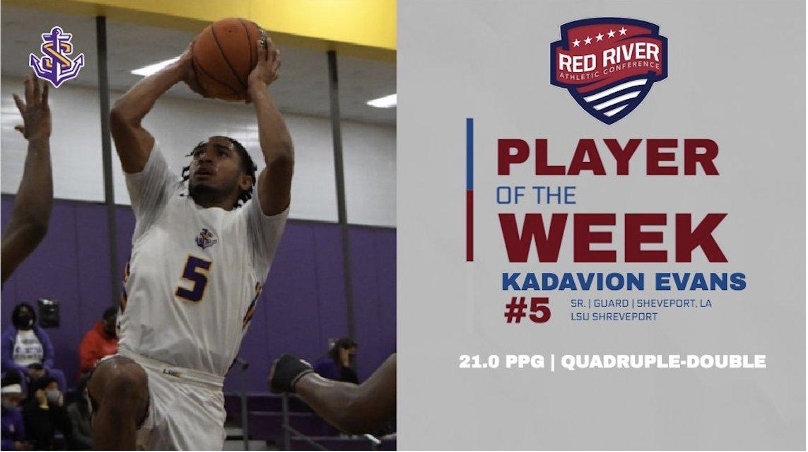 Image courtesy of LSUS Athletics.
Sports are in full swing here at LSUS and as always, our Pilots have not failed to impress. The LSUS Men's Basketball Team is on a hot streak of 27 home wins with their recent blowout victory of 134-58 against Dallas Christian College, making their record 2-0 for the season.
While the team earned the win together, one player in particular had a historic, record-setting performance earning him the Red River Athletic Conference Player of the Week award. The senior player in speaking, Kadavion 'KD' Edwards, recorded a quadruple-double in the win which has never been done before in LSUS history.
His stat-line consisted of a high scoring 31 points, an unselfish 11 assists, 11 rebounds, and 10 steals. He simultaneously led the game with all four of his quadruple-double stats. Other key stats included the team's 50.5% field goal percentage, Brennan Maddox's back-to-back double-double, and Jeff Boyd's high scoring effort of 23 points.
Coach Kyle Blankenship had a positive report on his players following the game. In a press release recap of the game written by Assistant Athletic Director for LSUS, Tyler Moody, Blankenship said, "We started fast out of the gates and never really let up. We only had 7 guys available in the second half, so it could have been easy for us to relax. However, our guys continued to play hard until the final buzzer which is something we preach in our program."
For more information on LSUS sports and athletics, visit lsusathletics.com, or visit almagestlsus.com.