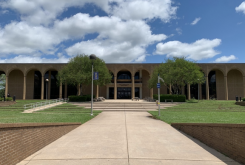 While the internet is struggling to keep up with the amount of online activity that has increased over the past month, a quiet deserted campus remains. On March 13, LSUS announced that all classes would resume online throughout the rest of the semester. Since then, students and faculty have had to adjust and learn to become accustomed to a routine they did not choose.
When Chancellor Clark held an open forum to address the campus closure on March 13, many students expressed that they would struggle due to lack of resources, such as computers and internet access, and that they wouldn't know how to go about finishing specific classes, such as labs and art classes. LSUS and its faculty and administration have done everything in their power to provide students with the utmost resources to get through this trying time, but many students still harbor mixed emotions.
Sarah Ramsey, a sophomore journalism major, said that the transition to online has definitely been a struggle, but she has found a light at the end of the tunnel. "Teaching yourself based on the material we're provided is not always easy, but I feel like it has taught me a lot about how I learn. I can use a lot of the strategies that I have found work best for me now to study for my future classes in the semesters to come," she said.
Tyson Lee, a junior history major, said that he has intentionally avoided online classes throughout his college career, as many other students have. "I personally don't like online classes, so I originally didn't like the idea of transitioning. However, the professors have made this transition much smoother than I thought," he said. Courtney Jackson, a junior mass communication major, also chimed in and said, "I love the face-to-face interaction with my professors and that's what I'm missing so much!"
Students with lab and studio classes initially worried about how they would finish out the school year online. Sarah Smith, a community health nursing major, said, "Transitioning to online in the middle of the semester had everyone freaking out." She continued by saying she and her classmates had no idea how they would resume their labs. Fortunately for her, she said, "Our teacher is being very helpful. We have Zoom meetings for each lab and she also sends updated pictures of the plants we were growing so we can continue with our reports."
Another student, Pearl Merry who is a biochemistry major, faced the same obstacle of having to finish her labs online. The effort of the LSUS staff shines through students' testimonies, especially Merry's. She said, "It's nice to know that most of my teachers are trying to adjust like we are too. My labs are going great and I'm still able to learn. I have teachers asking for feedback, and it's comforting that they want the best success for us even in the circumstances we are in."
Although the transition started out rocky, most students have found ways to come to terms with these changes and do the best they can to come out on top. The Almagest Student News wants to personally acknowledge and thank all the LSUS staff, faculty, and administration for working hard day and night to make this transition as smooth as possible. To our friends, family, and neighbors: we can and will get past this.