Due to the recent turn of events caused by COVID-19, LSUS is working hard to ensure that all students have access to essential resources. Since LSUS shut down the computer labs to prevent further spreading of the virus, they have set up wireless internet access for students, faculty, and staff that can be accessed from their vehicles in the Fine Arts Parking Lot and Technology Center Parking Lot located near the radio tower.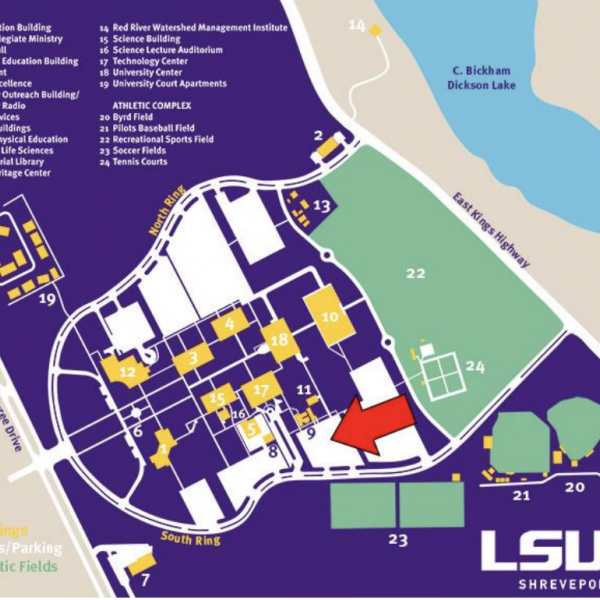 The connection process is very simple. On your device, find and connect to the "eduroam" wireless network. Once connected, accept the certificate if prompted to do so, and then you will be asked for a username and password to log in. For students, you will log in with your "StudentID@lsus.edu" and your LSUS PIN number as your password. For LSUS faculty and staff, you will log in with your "Username@lsus.edu" and your LSUS password. Press connect and your device will operate under the eduroam network.
There are also several other options within the community for internet access that may apply to students and staff. SuddenLink/Altice are offering Altice Advantage broadband free for 60 days in available service areas for college students who may be displaced due to school closures and who do not currently have home internet access. If you live in the Suddenlink service area, please call 888-633-0030 or visit https://www.suddenlink.com/coronavirus.
T-Mobile is providing unlimited data to all current customers who have plans with data for the next 60 days. It will also provide additional data to mobile hotspot users. Visit https://t-mo.co/2QmPd3O for more information.
Sprint is providing unlimited data for 60 days to customers with metered data plans, giving 20 GB of free mobile hotspot to customers with hotspot-capable devices, and offering complimentary rates from the U.S. to CDC-defined Level 3 countries to customers with international long-distance plans. Visit https://sprint.co/33v25dQ for more information.
The cable giant, Comcast, is offering free access to its Xfinity WiFi hotspots for everyone, including non-subscribers, for 60 days. It's also providing unlimited data to its customers for no extra charge, not disconnecting internet service or charging late fees for customers who say they can't pay their bills, and providing 60 days of free basic internet service to new customers. Visit https://corporate.comcast.com/covid-19 for more information.
Like Comcast, AT&T is also providing free access to its public WiFi hotspots. The company also said its consumer home internet wireline customers and fixed wireless internet customers would receive unlimited data. Visit https://soc.att.com/2QosvbI for more information.
For students that may be in other parts of Louisiana outside of Shreveport/Bossier City, Charter Communications is providing free Spectrum broadband and WiFi internet for 60 days to households with students who don't already have a subscription. Like Comcast and AT&T, it's also offering its WiFi hotspots for free to the public. Visit http://bit.ly/2U0mfcp for more information.
During this time, it is important that we come together as a community, and it is encouraging and uplifting that many companies are doing their part. Now is the time to take advantage of these opportunities and stay thankful and positive that individuals are doing the best they can to help people in need, like ourselves.