by Brennan Thompson | Executive Editor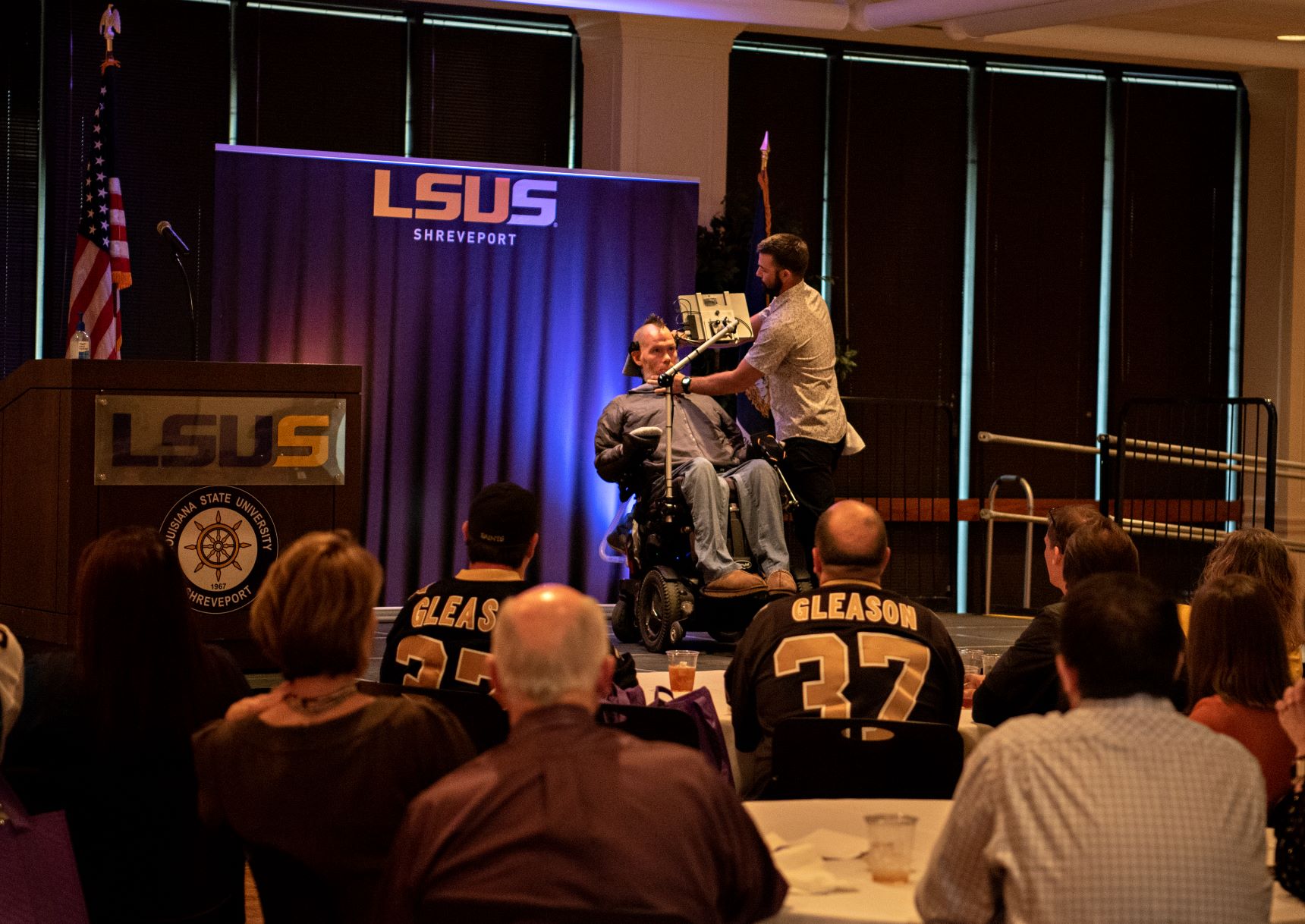 Shreveport, LA—Steve Gleason has a unique talent: he can lay it on thick while cracking a few jokes in between. He did just that in the University Center Ballroom on Thursday evening. 
"ALS is a motor neuron disease that usually kills its victims in three years. I was diagnosed over 11 years ago in 2011," Gleason said. The former New Orleans Saints player and advocate discussed his trials facing amyotrophic lateral sclerosis, known as Lou Gehrig's disease or ALS, a disease affecting muscle strength and function of nerve tissue responsible for breathing, eating and movement. "I like to say, I'm eight years past my expiration date."
The audience burst into laughter at the comment. But then things went from light-hearted to serious within seconds. Gleason's good at conveying the seriousness of speech, even through the flat monotone of speaking software installed on his wheelchair tablet. ALS claimed his voice years ago.
The seriousness was undercut with his positivity. He spoke at length about his time building up resilience through his philosophy of "No White Flags." He outlined three key points to building resilience: recognition, acceptance and self transformation. The ideas seem esoteric, something a self-help guru says. The concepts, however, speak truth to life.
Recognition, as Gleason describes, smacks of Buddhist meditative practices and goals. The emotions and sensations a person feels while performing introspective meditation are fleeting—gone within seconds. He picked up this practice from Sam Harris's Waking Up app. 
Acceptance, or nonresistance, entails accepting the impermanence of humanity and emotions. Emotions like fear and doubt melt away, Gleason said, when a person lets go and accepts them as human responses. 
Self transformation is an esoteric concept spoken about in self-help books. Even without a definition, Gleason did say it was all about learning to forgive himself and begin again. He was forthcoming about his struggles with it and being forgiving, the first steps toward compassion. 
"Without truly transforming yourself, resilience is just another word to toss around by speakers like me," Gleason said. The words sank into the air, faintly peppered with meat pies and pasta from the dinner provided before the speech.
Gleason's message of "No White Flags" speaks more to the power of resilience as a personal philosophy, one he developed since the beginning of his career in the NFL. "No White Flags" isn't a quick catchphrase inspired by the motto for his nonprofit group, Team Gleason.
The group paved the way for the Steve Gleason Act of 2015, removing the Medicare cap on speech software and technology, and getting more health benefits coverage for those who suffer from ALS. Microsoft gave it a go with Team Gleason at developing technology to track eye movement for text-to-speech software on a tablet, just like the one Gleason used on-stage. 
Imagining who his work affects is difficult. Even though the so-called "Ice Bucket Challenge'' brought awareness and funding towards ALS research, the most well-known figure with ALS was Stephen Hawking, who died in 2018. But ALS doesn't affect celebrities alone. Two VIP guests know ALS's effects first-hand. 
John Harper, and his wife, Nicole Harper, sat at one of the front tables before the stage. John Harper was diagnosed with ALS not long ago. The disease claimed his ability to walk and breathe. A ring-lined clear plastic tube is lodged in his throat, specks of blood around gauze as he struggles to speak. His wife did most of the talking. 
"It needs to be brought to the forefront," said Nicole Harper. While John Harper has access to technology like an eye-gazing machine, gaps in coverage exist. Speech recognition technology benefits those who suffer from ALS to live in accessible homes, but John Harper doesn't have access to it right away. 
"It's not so much pain. It just don't work," said John Harper, referring to being able to move around. Soon, the disease will take John Harper's voice. The question of Medicaid covering assistance devices like voice recognition software to open doors in the home remains unanswered. 
Not all hope is lost. Team Gleason already has its feet in the door with Microsoft to develop newer technologies and push the boundaries of what it means to live with the disease, along with having an entire building for people with ALS to be able to open doors and live freely. The assistant technology has a long way to go. 
Team Gleason and the ALS Association are always open to donations. Visit teamgleason.org/donate or www.als.org/donate to donate proceeds to the nonprofits.